Haryana Violence Spreads from Nuh to Gurgaon
In recent days, the city of Delhi has been on high alert due to the escalating violence spreading from Nuh to Gurgaon in the neighboring state of Haryana.
The situation has raised serious concerns among citizens and authorities alike. In this article, we, as experts in the field, aim to provide a comprehensive overview of the current events, underlying causes, and potential solutions to the crisis.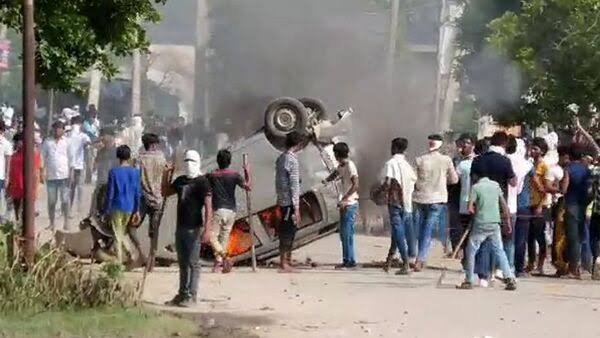 The unrest in Haryana, which has now spread to Gurgaon, has its roots in long-standing issues that have been brewing for quite some time. The region has been grappling with socio-economic disparities, political tensions, and communal divides.
As a result, this has led to sporadic incidents of violence that have now culminated in a larger and more concerning situation.
Tracing the Inciting Incident
At the epicenter of the current violence lies the town of Nuh, which has witnessed a series of clashes between different communities.
The simmering tensions finally erupted after an unfortunate altercation between two groups, resulting in loss of life and widespread destruction of property. The incident quickly escalated, triggering a chain reaction that has now engulfed Gurgaon.
The Role of Law Enforcement
As the situation continues to unfold, the role of law enforcement agencies becomes crucial in restoring peace and order. The local police, along with support from paramilitary forces, have been deployed to control the situation and maintain law and order.
However, they face challenges in dealing with the magnitude of the unrest and ensuring the safety of citizens.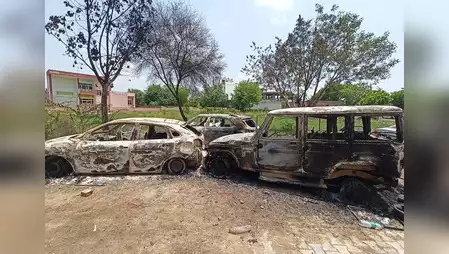 In response to the escalating violence, the government has initiated dialogue with community leaders and stakeholders to find an amicable resolution.
The focus is on addressing the root causes of the unrest and implementing measures to prevent such incidents in the future. Transparency, inclusivity, and accountability are essential aspects of this approach.
The ongoing violence has had a severe impact on the daily lives of residents in the affected areas. Schools and businesses remain closed, transportation is disrupted, and people are living in fear.
The economic repercussions are also evident, with businesses suffering significant losses and tourism declining sharply.
Media and Information Dissemination
As we are witnessing the situation unfold, the role of media and information dissemination becomes crucial.
Reliable reporting and responsible journalism can play a vital role in keeping the public informed and preventing the spread of misinformation. It is essential to rely on verified sources and refrain from sensationalizing the events.
Social Media and Community Awareness
In this digital age, social media platforms play a significant role in shaping public opinion. While social media can serve as a tool for raising awareness and organizing support, it can also be misused to propagate misinformation and incite violence.
Authorities must closely monitor social media channels to prevent the spread of inflammatory content.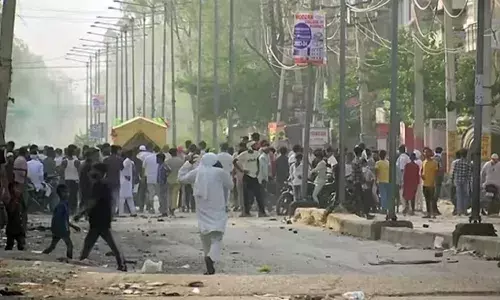 Steps Towards Reconciliation
In times of crisis, it becomes essential to foster a spirit of reconciliation and unity among communities. Interactions between different groups should be encouraged, and efforts should be made to promote dialogue and understanding.
Additionally, the government and civil society organizations can initiate programs that focus on communal harmony and coexistence.
As we navigate through these challenging times, it is crucial for all stakeholders to work together towards a peaceful resolution.
Community leaders, politicians, law enforcement agencies, and citizens must collaborate to address the root causes of the unrest and implement measures that ensure long-term stability and prosperity.
In conclusion, the violence spreading from Nuh to Gurgaon in Haryana has put the city of Delhi on high alert.
Understanding the underlying causes, acknowledging the role of law enforcement and government initiatives, and focusing on community awareness are crucial steps towards reconciliation and peace.
It is a collective responsibility to build a harmonious society where everyone can coexist peacefully.
Haryana Violence Spreads from Nuh to Gurgaon
Haryana Violence Spreads from Nuh to Gurgaon
Haryana Violence Spreads from Nuh to Gurgaon
Haryana Violence Spreads from Nuh to Gurgaon
Haryana Violence Spreads from Nuh to Gurgaon
Haryana Violence Spreads from Nuh to Gurgaon, Haryana Violence Spreads from Nuh to Gurgaon, Haryana Violence Spreads from Nuh to Gurgaon, Haryana Violence Spreads from Nuh to Gurgaon, Haryana Violence Spreads from Nuh to Gurgaon